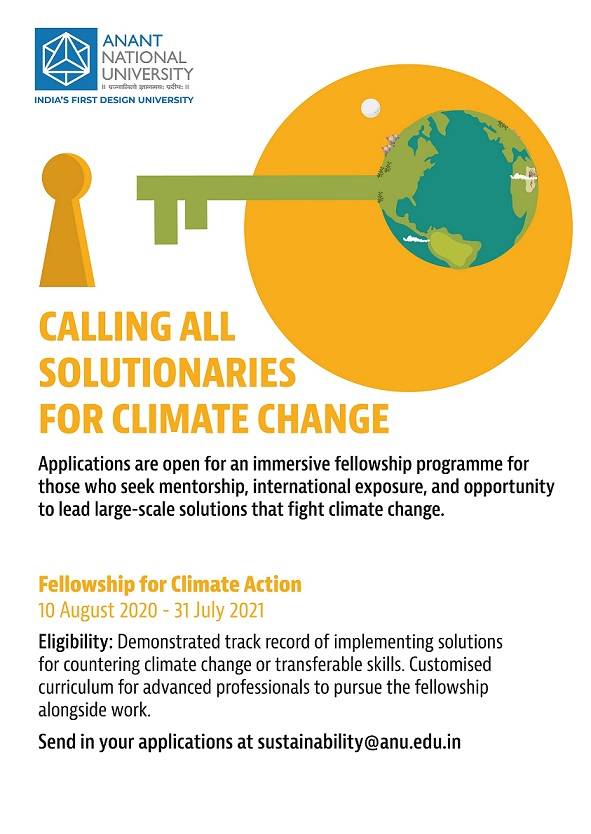 There is an unprecedented level of climate anxiety around us. While it is good that more people than ever before are aware of climate change, we would like to shift the focus on offering people ways to be part of the solution.
The Fellowship for Climate Action is a unique one year immersive programme for 20 fellows each year that is based on a mentor-mentee framework which then feeds into an online education platform that engages hundreds of thousands more individuals to counter climate change. The long term mission of the Fellowship is to create a community – offline and online – of climate change trailblazers who work together and cross-pollinate each other's work with ideas and expertise across sectors, regions, and generations.
75% of the Fellowship classes will be held at locations where solutions for climate change are being implemented and at locations that are hard hit by climate change. Faculty will include established academics and practitioners of global reputation. All fellows will also work closely with a mentor chosen from our illustrious board of mentors who are supporting the Fellowship.
Our Board of Mentors to the Fellows for Climate Action include:
Arunabha Ghosh, CEO, Council for Energy, Environment, Water 
Chetan Maini, CEO, Sun Mobility. Founder & ex CEO, Mahindra Reva
Mustapha Mokass, CEO, Beya Capital
Manish Kharbanda, Advisor, Jindal Steel & Power
Devendra Chawla, CEO, Spencers group
Anoop Ratnakar Rao, CEO, ReLife. Ex-CEO and co-founder, Naandi
Dhaval Monali, CEO First Home Realty
Indra Guha, Partner, TTC
Gireesh Shrimali, Fellow, Stanford University
Christophe Jaffrelot, Director India Institute, King's College. Director CNRS, Sciences Po
Laurence Tubiana, CEO of the European Climate Foundation, and Chair of the Board of Governors at the French Development Agency.
Our endeavour is to include as many people who wish to be part of the solution to climate change. The Fellowship for Climate Action is designed such that those who can dedicate a year of their life, whether they are working advanced professionals, entrepreneurs, or young climate activists, can all benefit from it. 
Two separate tracks  will be conducted:
Track 1: Fellows willing to commit to a 1 year fully residential fellowship. Fees is Rs 5 lakhs.

Track 2: Fellows who are advanced in their careers and continue to work will have their curriculum and mentorship experience made flexible and customised to their availability. Fees is Rs 7 lakhs.