A global programme based in India for
climate change solutionaries
Meet the fellows of the Anant Fellowship for Climate Action 2020-21
Know more about the Fellowship for Climate Action
There is an unprecedented level of climate anxiety around us. While it is good that more people than ever before are aware of climate change, we would like to shift the focus on offering people ways to be part of the solution.
The Fellowship for Climate Action is a unique one-year immersive programme for 20 fellows each year that is based on a mentor-mentee framework. The long term mission of the Fellowship is to create a community of climate change trailblazers who work together and cross-pollinate each other's work with ideas and expertise across sectors, regions, and generations.
75% of the Fellowship classes will be held at locations where solutions for climate change are being implemented and at locations that are hard hit by climate change. Faculty will include established academics and practitioners of global reputation. All fellows will also work closely with a mentor chosen from our illustrious board of mentors who are supporting the Fellowship.
Our Board of Mentors to the Fellows for Climate Action include:

Arunabha Ghosh, CEO, Council on Energy, Environment, Water, India 
Chetan Maini, CEO, Sun Mobility. Founder & ex CEO, Mahindra Reva, India
Mustapha Mokass, CEO, Beya Capital, Morocco
Manish Kharbanda, Advisor, Jindal Steel & Power, India
Anoop Ratnakar Rao, CEO, ReLife. Ex-CEO and co-founder, Naandi, India
Dhaval Monani, CEO First Home Realty, India
Indra Guha, Partner, TTC,  India
Laurence Tubiana, CEO of the European Climate Foundation, and Chair of the Board of Governors at the French Development Agency, France
Gireesh Shrimali, Fellow, Stanford University USA, Ex-Director, Climate Policy Initiative,
Amer Vohora, Partner Value Works, Zurich, Switzerland
Adam Werbach, Co-founder, Yerdle, San Francisco, USA
Prof. Dr. Sabine R. Huebner, Professor of Ancient History, Head of the Institute of Ancient History at University of Basel, Head of the Basel Climate Science & Ancient History Lab, Secretary General of the International Federation of Associations of Classical Studies (FIEC), Switzerland.
Maureen Nandini Mitra, Editor, Earth Island Journal
Mahua Acharya,Asia Director, Climate Policy Initiative
Our endeavour is to include as many people who wish to be part of the solution to climate change. The Fellowship for Climate Action is designed such that those who can dedicate a year of their life, whether they are working advanced professionals, entrepreneurs, or young climate activists, can all benefit from it. 
Two separate tracks  will be conducted:
Track 1: Fellows willing to commit to a 1 year fully residential fellowship. Fees is Rs 5 lakhs.

Track 2: Fellows who are advanced in their careers and continue to work will have their curriculum and mentorship experience made flexible and customised to their availability. Fees is Rs 7 lakhs.
Listen to what our mentors
have to say about Climate Action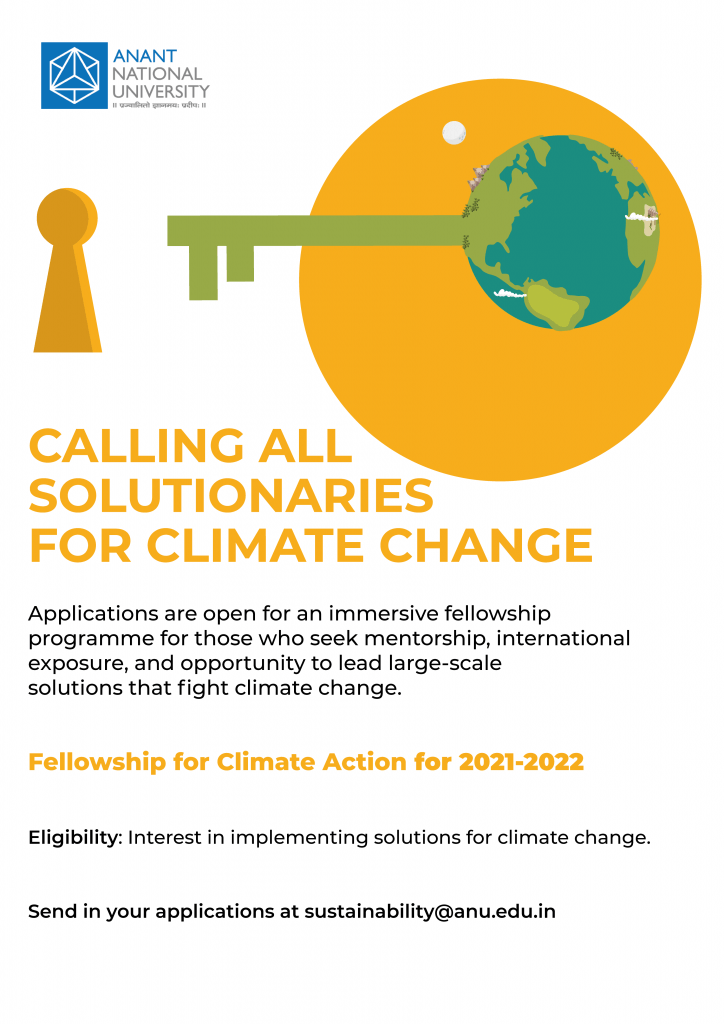 Frequently Asked Questions (FAQs)
What is the need for this Fellowship?
The Fellowship for Climate Action shifts the focus from the unprecedented level of climate anxiety we see around us today to offering individuals ways to be part of the solution to mitigate climate change. Fellows work directly with mentors to power up the big solutions that are indeed working but which clearly need to be scaled up further for adequately mitigating climate change. Secondly, as it is based in India, the Fellowship also presents a different discourse on climate change, given that poverty alleviation and access to basic food and shelter, in addition to climate change, are challenges that India and many other parts of the world deal with. Some parts of the curriculum for Fellowship feed into an online platform for climate change education. Anyone in the world can register as a student and learn remotely, as well as collaborate with the community of fellows and mentors to be a part of the solutions for climate change, thus exponentially enlarging the scope of climate education. 
Whom is this Fellowship for?
The Fellowship is designed for those who have already achieved a record of accomplishment in mitigating climate change, or have advanced transferable skills, and would like to be propelled into working with the climate pioneers of their field. Applicants must be able to show a demonstrated strong commitment to working towards solutions for climate change.
What is the pedagogical approach of the Fellowship?
The Fellowship offers a powerful combination of deep knowledge and mentorship. The curriculum covers three pedagogical pillars – technical knowledge, change-maker skills, and personal development – that are divided into six terms of two-month duration each. 75% of the Fellowship classes will be held at locations where solutions for climate change are being implemented and at locations that are hard hit by climate change. Fellows and professors will travel to these locations for the classes.
Mentorship will be a continuous component of the programme that will run in parallel to the curriculum. The Community Curator at Fellowship for Climate Action will curate spaces and moments where mentors and fellows interact. Fellows will spend Term 5 (two months) with a mentor. 
Who arranges for travel? 
The Fellowship for Climate Action covers all travel costs pertaining to the Fellowship. It includes accommodation, logistics and costs for learning journeys, local conveyance to attend classes, and a return travel ticket to work with your mentor during Term 5.  
How does a Fellow benefit from the Fellowship?
Learn advanced-level technical skills from leading international academicians and practitioners across carbon accounting, energy efficiency, resource efficiency, and climate policy.
Make an exponential change within yourself by developing yourself as a change maker.
Embark upon an exciting journey with the most influential global climate leaders as your mentors.
Collaborate with like-minded individuals from across the world offline and online.
Benefit from coaching, negotiation, and customised attention to enhance your leadership skills.
Shape India's discourse on climate change and relay it to the world. 
What do Fellows do after completion of the Fellowship programme?
Fellows are expected to take on leadership positions in the USD 2 trillion Climate Change industry. They are also invited to remain a member of the Fellowship for Climate Action community. 
Facilities available for the Fellowship for Climate Action:
Faculty
The Fellowship faculty is unmatched in the world. With an average experience of 20+ years, these are the most celebrated and respected experts in their respective domains.
Campus
Located in a sprawling 100-acre campus in Ahmedabad, the heart and hub of all things related to Architecture, Design, and Environment.
Accommodation
The Fellowship experience extends to the fellows' residence. The accommodation offered is equipped with all facilities for comfortable living. Transport is provided to and from the Fellowship accommodation.
The following elements will be considered in the selection of candidates:
• Online Application
• Telephonic Interview
• Personal Interview