Volume 2 Issue 2 | Oct 2018

STUDENTS CORNER
Yoga Workshop by Pallavi Tyagi Memory Workshop by Krishan Chahal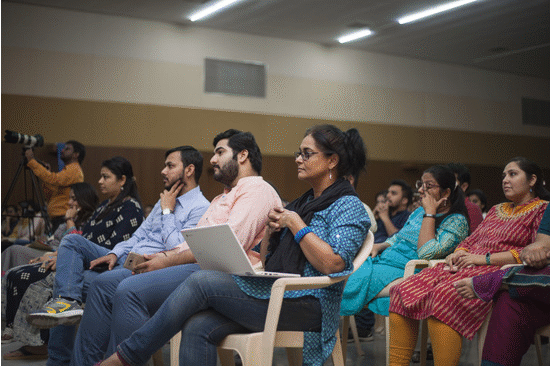 Clay Workshop by Sonal Beri and Sharmila Sagara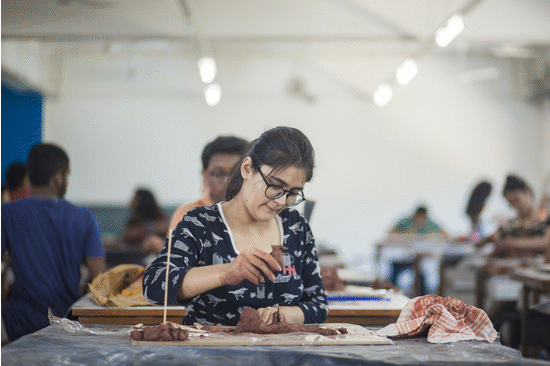 Prof. Amit Sheth's interview with CollegeDunia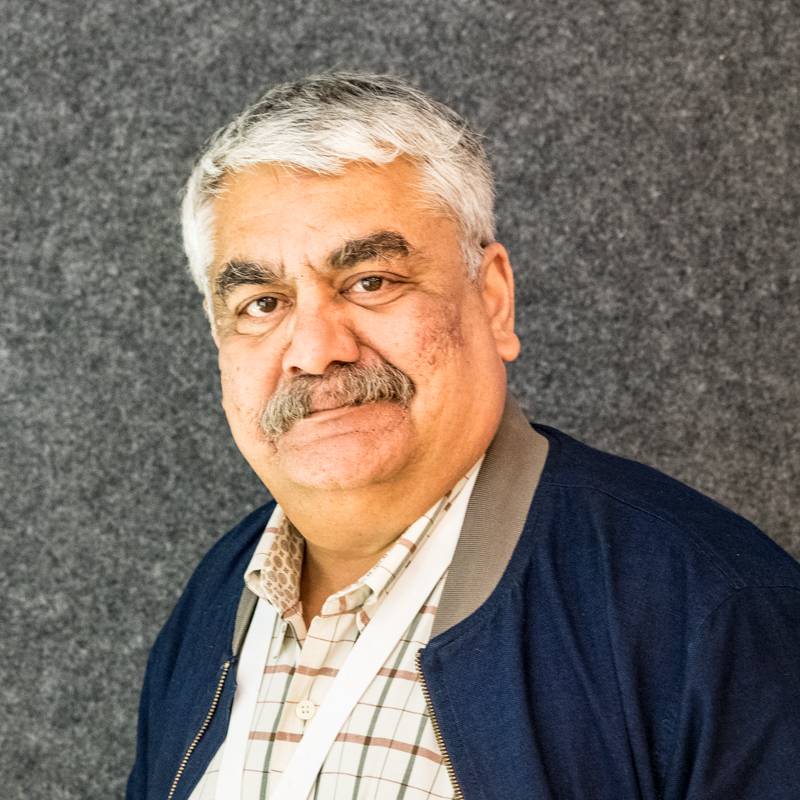 "Students aspiring to join the AnantU family must be prepared to encounter wicked problem-solving from the very first year," emphasizes Prof. Amit Sheth...Read More
Comic Quickies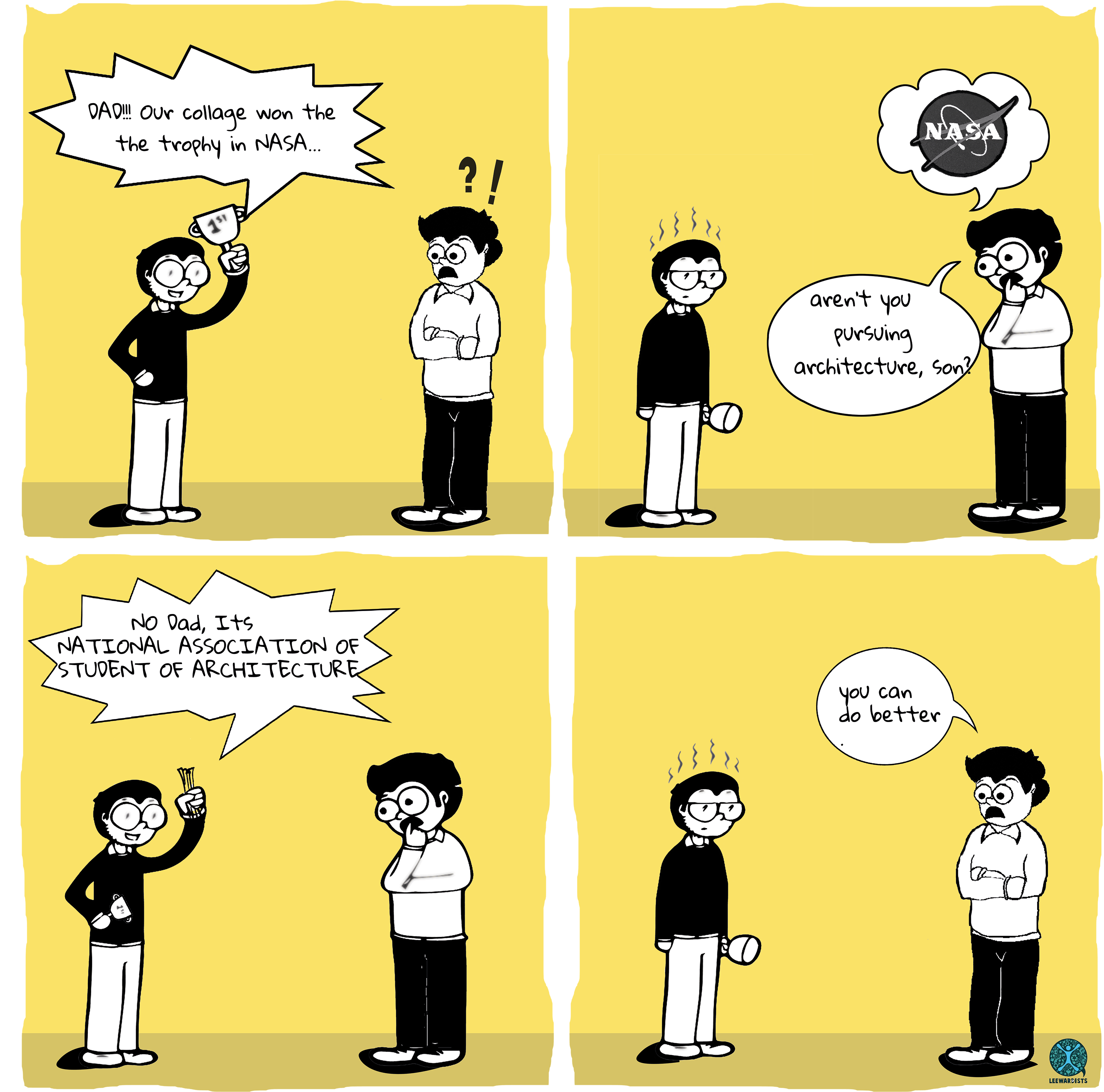 Harsh Khandelwal and Pankaj Devnani from School of Architecture at AnantU designed a NASA (National Association of Students of Architecture) themed comic under the guidance of Leewardists.
Summer workshop in China – Dhwani Shah, School of Design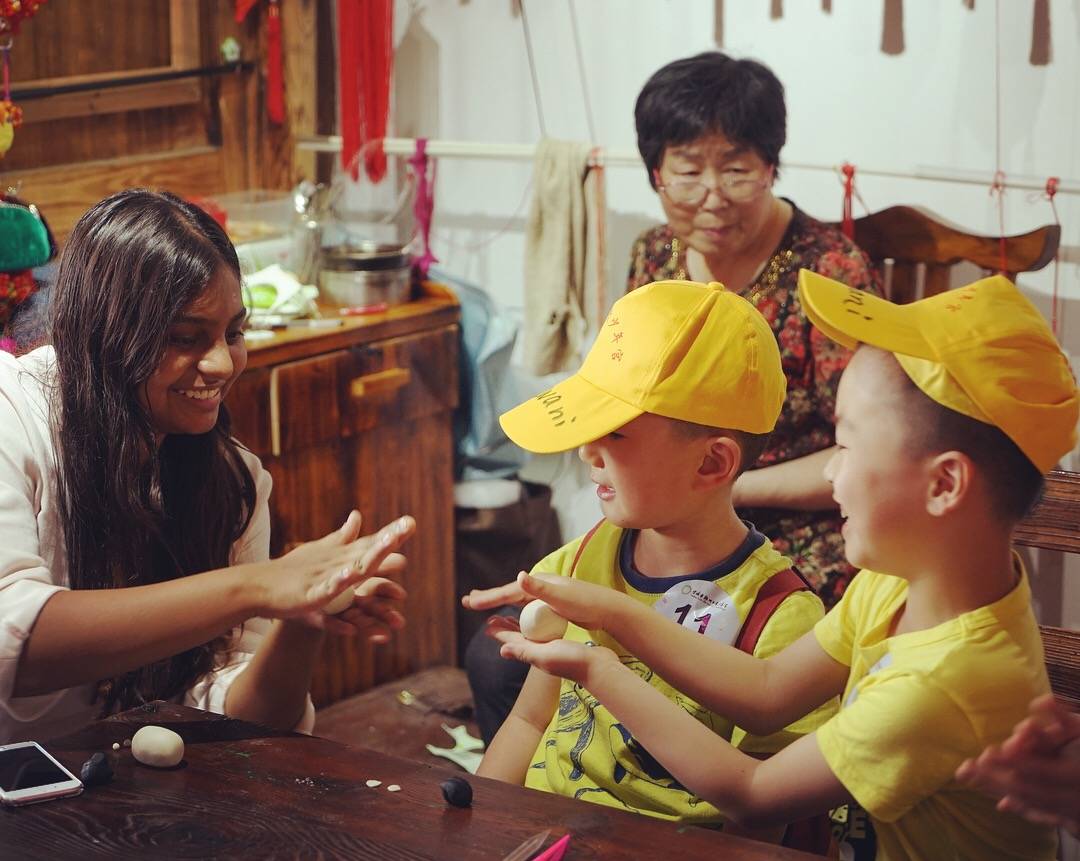 I recently visited the University of Nottingham Ningbo, China, in June-July for a handicraft design workshop. China has a glorious history of arts and crafts...Read More
Architecture students of AnantU win at NASA
Students of School of Architecture at Anant National University kept the tradition alive of participating in events and winning trophies at the National Association of Students of Architecture (NASA, India) Zonal Convention held in Bardoli, Surat, in September 2018. This was the second consecutive year AnantU had got involved in the largest Architectural Student Organisation in the world with a team of 46 students representing the university across activities.
Of the six competitions students of AnantU participated in, viz., ANDC, Reuben's trophy, Sustainable le trophy, Thesis trophy, Photography and Panel discussion, they got shortlisted in five of them. A team of four students (Harsh Khandelwal, Devanshi Shah, Samarth Parikh, Ritu Vora) won the special mention prize in Panel Discussion, and another team (Mansi Darji, Jaini Shah, Riya Fadadu, Ritu Vora, Shivani Dave, Rajvi Vanodia) was the runner-up in the tug of war (girls) game.
The one-of-a-kind experience was cherished by AnantU's Architecture students who were exposed to talks and workshops by renowned architects from across the country, and the works of students from other colleges during the convention. Values of team work, collaboration, creativity, sportsmanship and leadership strengthened in the students during the two days.
The team from Anant National University has got shortlisted for the Annual NASA Convention and hopes to get selected among the top 100 qualifying colleges.
Anant Fellows re-engineer waste land into playground for village children
As a part of their year-long Live Action Project, a team of the Anant Fellowship Cohort 2018 - Aayush Makharia, Gyurmeth Kasa, Jinal Doshi, Joseph Rajini Asir, & Harshil Parekh - partnered with Anthill Creations, and converted a wasteland at the Virpura Government School into a playground built with recycled material.
Virpura, a small village located on the Sanand - Viramgaam highway near Ahmedabad, with a population of about 850 people, was selected by the team of five Anant Fellows as their project site because of the issues it was facing. Open defecation, lack of menstrual hygiene practices, substance abuse among children, waste dumping, and water wastage were the key problems, as also identified by the Government of India to be prevailing across villages in the country.
The team conducted extensive research on the ground using tools like metaphorical survey, photo visual mapping, focussed group discussions, and personal interviews, that they had learnt in the class. Analysing the results from these assessments, they formulated a series of action steps to curb the existing problems. 'Suvidha pads' created under the Pradhan Mantri Bhartiya Janaushadhi Pariyojana (PMBJP) and guidelines presented in Swachh Bharat Abhiyan turned out to be especially helpful in formulation of solutions.
The Fellows then built a community meeting platform in the local school and organised seven workshops for the villagers. The workshops focussed on acceptance and awareness of the issues and then proceeded to adaptation of solutions. The participatory nature of these intervention activities attracted strong youth involvement.
For their well-researched and impactful proposal, the team also received an initial funding of Rs. 50,000 from the 'Teach A Class' initiative. An additional amount of Rs. 1,50,000 was subsequently raised through crowdfunding platform Ketto to convert the wasteland in the school into a playground.
Ganesh Chaturthi celebration at AnantU
A grand celebration of Ganesh Chaturthi unfolded at AnantU in three stages:
1. Eco-friendly Ganesh making workshop
Dhara Dave, faculty at AnantU, conducted a weekend workshop on how to make eco-friendly Ganesh idols. Three methods were taught to students – clay modelling, coil method and slab method. Most commonly used material for idols, Plaster of Paris (PoP), is non-biodegradable and harms water bodies; clay is biodegradable, more elastic and mouldable. Over 50 students participated in the workshop and created idols with seeds inside. Some of these were used for aarti at campus and hostel.
2. On the spot events
Students of AnantU organised on-the-spot events and music sessions on campus as a part of the Ganesh Chaturthi celebrations. Games like 'Phuk Phuk Ke', 'Find Your Way', 'Pheli', 'Spoon Feeding', 'Tug of War', and 'Gravity' saw enthusiastic participation from students across programmes.
3. Sthapna and Visarjan
An active participation was seen from all programmes throughout the journey of Ganesh at the university. The campus and hostel premises were festively decorated by students.
Prof. Amit Sheth's interview with CollegeDunia
"Students aspiring to join the AnantU family must be prepared to encounter wicked problem-solving from the very first year," emphasizes Prof. Amit Sheth

In an interview with Collegedunia, Amit Sheth shares his thoughts on Design education and the industry.

Prof. Amit Sheth is currently working as a Professor at Anant National University. He is an Electrical and Electronics Engineer from BITS, Pilani and a postgraduate in Industrial Design from NID, Ahmedabad. He is pursuing a Ph. D. in inclusive wayfinding from IIT, Bombay, and is also a visiting faculty at IIT, Gandhinagar. Most recently, he was the Head of Department of Design at Nirma University, Ahmedabad. With more than three decades of experience in teaching and has worked on over 300 projects in various fields of design, Prof. Sheth is essentially a tinkerer, who loves problem-solving in multiple spheres and across diverse platforms; he is extremely passionate about design and design education.

Working in the Education sector has been a wonderful opportunity

As they say, "Been there, done that". Yes, I have a fair amount of experience both as an independent design consultant as well as a design teacher and am still a learner, something I still enjoy. Education is not an industry, at least I would not define it that way. Education is a wonderful opportunity to give, connect and build something for our future generations, and given the right environment, it is definitely the best place to work.

A leadership style that allows the freedom to enjoy the work

I do not believe in a top-down approach or similar feudal practices which abound in most of our institutes and even offices. I believe in giving full freedom in a relaxed informal environment, so that every person, be it a faculty or a staff member, can grow, enjoy their work and give their best. If you encourage your working family to be independent, take decisions and experiment, then you will grow into a fine, vibrant and exciting institute. Work should be fun and fulfilling, not a burden or a chore to go through day after day till you retire.

Lack of good teaching faculty is the biggest change visible in the scenario

The two biggest changes which are very apparent are the acute shortage of good teaching faculty and this misplaced notion that education is an industry and a money-making tool. This needs to be corrected as you are responsible for the lives of hundreds of fresh young people who are depending on you to help shape their career and their life. And this should not be trifled with under any circumstances with poor resources, scanty or very mediocre teaching faculty, outdated teaching methods or systems.

Providing students with real-life problems and projects to make them ready for the industries

My philosophy is that industry and education cannot be in isolation. The students at every stage must be given ample opportunities to work on live projects. At AnantU, we will also be bringing real-life problems and projects from clients to the students through their design courses. This will ensure that they can learn in real time, see their contributions, improvise from the feedback and become better and more knowledgeable about how things work, even before they graduate. This would be a terrific help to the industry which they would join after graduating, and even more, if they start on their own.

Students get placements throughout their course in the form of internships, design projects and full-time jobs after graduation

Placement is not only for that first job in their final year but also for the many internships and design projects that they would work on. We, at AnantU, would be a catalyst for getting industry which not only includes the corporate world but also the development sector, small and medium scale industries, startups, the government and design studios to accept our students by giving them real-life projects to work on as students and full-time jobs upon graduation.

Our relevancy with the present and future needs makes us stand apart from the other institutes

With a totally fresh look at our approach to the learning process, the pedagogy and the curriculum make us stand apart from the other institutes - right from the physical infrastructure which is vibrant and inspiring, to our core academic aspects like the ethos and the philosophy of AnantU. We are not just different but importantly, we are in tune with the requirement of an education relevant to the present and future needs of our society and industry.

The advanced technology has made the process of designing more accurate

The curriculum is not a static, written in lead, kind of format. It has to be in a state of dynamism, that can be adjusted, changed and even totally redone as time progresses and the world, the society and industry changes. Only then a relevant education can be transferred to the students. When we were students, a computer was this huge monstrous machine in a large hall and the only way you accessed it was through punched cards and a printout of your work given to you a few hours later.

Today each of us is walking around with at least one digital device in our pocket which is a thousand time more powerful and faster than the computers of the 70's. New software has made the process of designing more accurate, more realistic and extremely fast. This has to show up in the new curriculum of our schools. Couple that with the need of the hour of sustainability and environment. We cannot afford to produce graduates who only believe in form for form's sake. Those days are gone and today's institutes need to be pro-active in this regard through their curriculum.

The goal is to become the powerhouse of design knowledge

In the next few years, Anant will grow into a powerhouse of design knowledge, best practices and a dynamic and vibrant academic experience for all the students as well as the faculty. With our transdisciplinary curriculum, advanced pedagogy and empowered faculty, staff and students, we would surely be a much sought after design school in the country.

Message for the students who are aspiring to join the Anant National University

I am reminded of the Scout's motto "Be prepared". If you want to join the AnantU family, my advice to the students is to "be prepared" to give your very best.

"Be prepared" for a rich life and ever-changing environment. "Be prepared" to encounter wicked problem solving from the very first year. "Be prepared" for a demanding academic as well as co-curricular experience. "Be prepared" to the myriads of learning opportunities and exposure and finally "Be prepared" for an exciting, enriching and fun-filled journey on our campus!
Independence day celebrations – Shashvi Dalal, SOD
Across the country, 15th August, our independence day, is celebrated with great joy and enthusiasm. We have been rejoicing it from the time we were in playgroups. What made this year's celebration unique and memorable was that it was completely planned and executed by us students. From groups handling technical issues to groups performing on the stage, every person had a role to play in the event.
Since we had joined AnantU only 2 days prior, planning for this big show began just 24 hours before. Eventfully, everything went on smoothly on the I-Day! The event kicked off with a short clip on the hard lives of our heroes, and then came a beatboxing group who performed on the song 'Jai Ho' by using different means for the sound effects. It was truly a mesmerizing act! This was followed by a beautifully choreographed drama based on the theme of our country's colonisation due to trade. To then lighten the mood of our audience, lovely dances on heart-touching patriotic songs were performed. The whole auditorium where the event took place was thematically decorated by the decoration team. The backbone of the event, the technical team, did their job brilliantly ensuring the whole function goes on smoothly. So, be it the anchors who kept the audience glued to the stage or the audience who cheered for and encouraged the performers, everybody present at the event made it a huge success.
The event was concluded by planting of saplings on the banks of the lake situated beside our main building. It was our first event as a group and it worked out flawlessly. To quote what our mentors said to us, "IT WAS OUR FIST DESIGN PROJECT".
Summer workshop in China – Dhwani Shah, School of Design
I recently visited the University of Nottingham Ningbo, China, in June-July for a handicraft design workshop. China has a glorious history of arts and crafts, and they're an embodiment of the people's longing for aesthetic beauty for themselves. Walking around experiencing and exploring the idiosyncrasies of this eccentric country, I realised that there is something beautiful about how the world's largest economy is a mix of both traditionalism and modernism, an industrial giant and yet, very much preserved to its culture and roots.
I was representing India at UNNC and had a lot of interesting experiences, including teaching them about our culture and learning about theirs. I visited 8 different cities and learnt about the handicrafts in each of the cities. We learnt how to make Chinese fans, and were taught about Suzhou embroidery which is a prime example for excellent embroidery, and is famous all-over the world. We also got to meet the artisans and discuss their techniques. Later, we collaborated with Wugu Disabled Centre in Ningbo, which is a home for countless disabled people who are taught these art and crafts. We made hand-painted postcards, stones and different artefacts, set up a stall to sell these product , and raised funds for them. Another fun experience was working with the children who taught us how to make clay figurines from rice-dough.
During my experiential summer trip, I also visited the Great Wall of China in Beijing, the highlight of my whole trip. It is an architectural treasure of epic significanc , and truly, a wonder of the world.
These two months were extremely challenging but equally exciting. My learnings from AnantU came in handy at all times. Throughout the trip, there was a lot of painting, sketching, and artwork involved in the work we had to do, and I'd done all of that at AnantU in the 1st year, so the challenges seemed easier. Also, I had started working in teams at the university for different courses, and learned teamwork in the process; the learnings helped a lot in my summer workshop because there were plenty of instances when I had to make a decision for the whole team. More importantly, advices from my faculty, and confidence built up in me because of the environment at Anant National University enhanced my international experience.
Every day was a new adventure in China, and without a doubt, much like India, this is one of the most colourful, exciting and culturally rich countries on the world map. Visiting China definitely enhanced my learning experience as a Design student, and was one of the best things that happened to me in 2018.